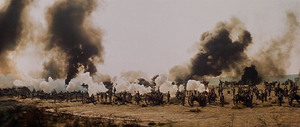 Henry Fraser (5th of November, 1780) is an officer of the
Royal Horse Artillery
, currently holding a captaincy. Fraser is a retired character played by Casper V.
Father (Age and name unknown)
Mother (Age and name unknown)
Sister (Born 1793, name unknown)
Sister (Born 1796, name unknown)
Mattheus, Brother (Born 1798)
Early years
Edit
Coming from a low class family, Henry Fraser only managed in being accepted to the Military academy with help of his patron, the factory owner by who his father was employed as a master. This patron only helped him into the Academy to avoid a scandal Fraser is actually totally innocent of - Nevertheless, Fraser was accepted into the Academy in December 1797, and finished in 1799 - Thus only being in the school for two years, on account of Fraser's early Mathematical education.
Early Military Career
Edit
Fraser applied for a commission in a newly raised Horse Artillery troop, and was accepted as a 2nd lieutenant, serving under Captain Augustus MacLean - a pious Scottish officer who would make sure Fraser was never short of good, sometimes unnecessary advice.
Fraser serves in the Maharatta wars, mostly chasing down small bands with cavalry formations, and eventually fights in the aftermath of Assaye, herding the enemy army back by canister. It is there where he gets wounded the first time, by a slash of a scimitar in the upper arm - only saved by a corporal throwing the Indian off his horse with a ramrod.
In December 1803 Fraser and his troop do different duties during the siege of Gawilghur, and it is there where he earns his promotion to 1st Lieutenant by successfully capturing and turning an enemy cannon.
After India
Edit
After his returnal in June 1804, he stays on half-pay for a particular long time, visits Malta in 1806 and is promoted to Second Captain in 1808 when the Battery leaves for Spain. They fight in the Corunna retreat after which (after long debate) Fraser is finally promoted to a full captain. He arrives with the Allied army on the 25th of June, 1809.
Personality & Characteristics
Edit
Fraser is a short-statured young man of of some charm, with a clean-shaven face and short brownish golden hair. He has no trouble expressing his feelings, to the annoyance of some, but has some difficulty when addressing high class individuals, especially if they are of lower rank. He is deadly proud of his captaincy - though he has found out that being a commanding officer takes a lot more then he anticipated, and some may think he is indeed not capable of running the troop.
Fraser actually learned riding in just three months, and according to himself, "To the great humour of my friends", probably meaning his (more higher class) friends made fun of, or better said, the non-existence of, his riding skills.
His horse is called Rajah
His batman is a Irishman called O'Muraille, who is probably one of the oldest men in the troop.