Fallbrooke House is the country home of the Viscount Saltash and his family. The family's town house, Saltash House is located at 5, Portman Square, in the Marylebone district of London.
(See also Paintings in Fallbrooke House)
The house and grounds
Edit
Built on the site of a Tudor manor house, Fallbrooke is situated between Winchester and Andover, about ten miles from Andover and twelve from Winchester.
It was felt that the original Elizabethan house was not grand enough, so Fallbrooke House was totally remodelled and rebuilt by the second Viscount soon after acceding to the title in 1745, although the work took several years to complete. A watercolour view of the original house, painted by the first Viscountess, is on display in the library.
The grounds of the new house were originally landscaped by Capability Brown, with some slight remodelling done later on by Humphrey Repton.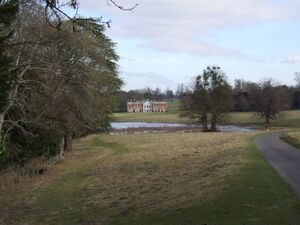 The country is very good for riding, a pastime much enjoyed by the Viscount and his children. The Viscount is MFH (Master of Foxhounds) of the local hunt, the Somborne (named for the nearby village), as the local country offers excellent hunting.
Pictures of Fallbrooke House
Edit
(All pictures are of Avington Park in Hampshire, except the dining room, which is that from Lansdowne house, the music room (which is the drawing room of Croft Castle) and the follies)